Taiwan arrests another Chinese man who swam to Kinmen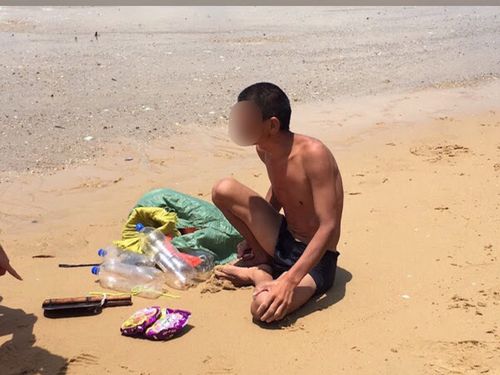 Photo courtesy of Kinmen Coast Guard
Taipei, Aug. 11 (CNA) A Chinese national was arrested by Coast Guard officers after he swam from China to Taiwan's offshore Kinmen County on Saturday, the Coast Guard Administration's Kinmen-Matsu-Penghu Branch said Sunday.
The man was the second Chinese national to have been caught illegally entering the country after swimming to Kinmen in a week.
On Aug. 6, a Chinese man from Shandong province was caught after he swam seven hours from China to Kinmen, helped by three children's swimming rings, the branch said.
In the more recent case, military personnel stationed on the island of Lieyu (also known as Little Kinmen) reported an inflatable object at sea about 500 meters away from a maritime patrol station Saturday and asked the Kinmen Coast Guard patrol squad to help identify the object, according to the squad.
Patrol officers then spotted a suspicious person and waited at locations where the man was expected to swim ashore, according to the squad.
When the man swam near the shore, patrol officers approached and arrested him.
The man, identified by his surname Wang, was found with only four PET plastic bottles and two packages of instant noodles.
Born in 1976, Wang was registered as a resident of Anhui province. When questioned, Wang said he departed from Zhangzhou in Fujian province at 10 p.m. Friday for the Chinese coast and swam to an unknown islet to take a rest with the PET plastic bottles for flotation.
Wang then swam from the islet to Kinmen at 10 a.m. Saturday, according to the squad.
Little Kinmen is as close as six kilometers to the Chinese coast and the main island of Kinmen is a few kilometers further away.
The Chinese man said he had no regular job and made a living by collecting resalable items from other people's trash, according to Wang Jung-chung (王榮忠), the deputy head of the squad.
The man said he did not want to live in China and intended to build a new life in a new environment to escape China's control.
He therefore bought four 2-liter bottles of Coca Cola and made an inflatable raft with the empty bottles and a paddleboard with materials from recyclable items he collected, and he used the tools to swim to Kinmen, according to the squad.
After being questioned, the case was referred to the Kinmen District Prosecutors Office for investigation on suspicion that Wang violated the Immigration Act and the National Security Act.
(By Lee Shien-feng and Evelyn Kao)Enditem/ls