Heat, rain warnings issued for parts of Taiwan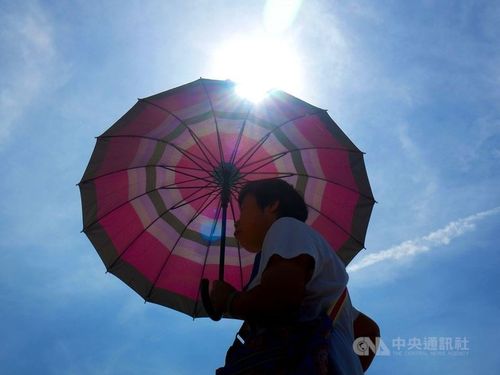 Taipei, Aug. 11 (CNA) The Central Weather Bureau (CWB) has issued a high temperature warning for eight cities and counties in Taiwan, and a heavy rain or extremely heavy rain warning for eight cities and counties in central and southern parts of the island.
An "orange" high temperature warning was issued Sunday for Taitung County in eastern Taiwan, which was expected to face high temperatures due to southwesterly winds or strong, dry, and hot downslope winds known as foehn winds.
The CWB's orange warning means temperatures of over 38 degrees Celsius are expected in a single day, or that temperatures of over 36 degrees are likely to prevail for three or more consecutive days, according to the bureau.
The CWB also issued a "yellow" heat warning, which signifies temperatures of over 36 degrees in a single day, for the East Rift Valley of Hualien, the Taipei Basin (Taipei, New Taipei), Keelung, Taoyuan, Hsinchu and Yilan.
As of 1:30 p.m., the highest temperature recorded on Sunday was 38.1 degrees in Luodong in Yilan County. The next highest temperatures of 36.9 degrees were recorded in Taitung County's Beinan and Changbin townships.
Meanwhile, due to strong southwesterly winds, the CWB issued an extremely heavy rain warning for Chiayi, Kaohsiung, Pingtung and Taitung, and a heavy rain warning for Taichung, Nantou, Yunlin and Tainan.
Extremely heavy rainfall is defined as more than 200mm in 24 hours or more than 100mm in three hours and heavy rain refers to accumulated rainfall of more than 80mm over 24 hours or more than 40mm in one hour, according to the CWB warning system.
In addition, mountainous areas in Nantou County and Tainan are likely to experience isolated heavy rain, strong gusts of wind, or sudden downpours, the CWB forecast.
It warned of mudslides and falling rocks in mountainous areas and flooding in low-lying areas following several consecutive days of rainfall.
Typhoon Lekima, which skirted Taiwan's northeastern coast late Thursday and early Friday, moved away from Taiwan on Friday evening and was near Shanghai on Sunday morning, moving northward toward the Yellow Sea, according to CWB data.
In the coming week, prevailing southwesterly winds will bring increased moisture and windward areas of central and southern Taiwan will see sporadic showers or thunderstorms, said Wu Der-rong (吳德榮), a meteorologist and adjunct associate professor of atmospheric sciences at National Central University.
In Kaohsiung, meanwhile, the city government announced that schools would be closed in Namasia District on Sunday because of fears of continuing rainfall and falling rocks in the mountainous area.
(By Yu Hsiao-han, Chen Ja-fo and Evelyn Kao)Enditem/ls