Government to probe Yilan bridge collapse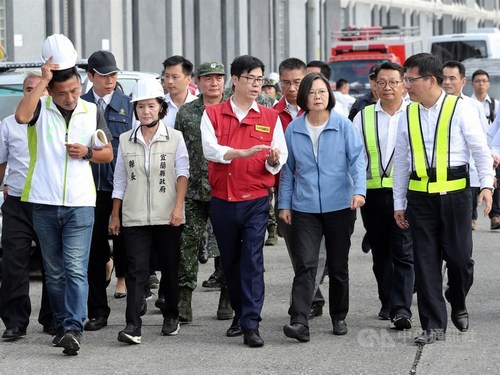 President Tsai Ing-wen (蔡英文, front, second right)
Taipei, Oct. 1 (CNA) President Tsai Ing-wen (蔡英文) pledged Tuesday that the government will thoroughly probe a bridge collapse in Yilan earlier in the day, stressing that the authorities are doing their best to rescue those still trapped and will clear the debris as soon as possible.
The landmark bridge above the entry to the port town of Nanfang'ao in Yilan County collapsed at around 9:30 a.m., crushing three fishing boats under the bridge and an oil tanker truck just about to exit the bridge.
The Taiwanese driver of the tanker truck and nine injured foreign nationals working as fishermen in the three vessels were rescued and taken to nearby hospitals.
Another six migrant fishermen, however, remained trapped in the debris of the collapsed bridge and damaged fishing boats, according to rescuers, who were still trying to rescue them as of press time.
After arriving at the scene, Tsai told reporters that relevant government authorities are doing their best in their rescue efforts.
Investigators are also collecting evidence as part of an ongoing probe into the cause of the incident, she said, adding that transportation authorities will shoulder responsibility should the investigation results hold them accountable.
The government will also carry out thorough checks on all aging bridges in the country, the president said.
Aside from the ongoing rescue efforts, the president also pledged that the authorities will clear the debris from the collapsed bridge to make room for fishing vessels that are currently trapped in the port, so that they can resume operations as early as Wednesday morning.
Meanwhile, Tsai said the foreign ministry has also contacted the Philippines and Indonesian representative offices in Taiwan to express the government's intention to take care of all migrant fishermen affected by the incident.
The government will offer assistance to the families of the fishermen if they wish to visit Taiwan, she added.
According to rescuers, the nine injured foreign fishermen include six Filipinos and three Indonesians. The six who were still trapped in the debris are three Filipinos and three Indonesians.
(By Wu Ruei-chi and Joseph Yeh)Enditem/J