GOLDEN HORSE: Taiwanese filmmaker Chen Yi-wen wins best lead actor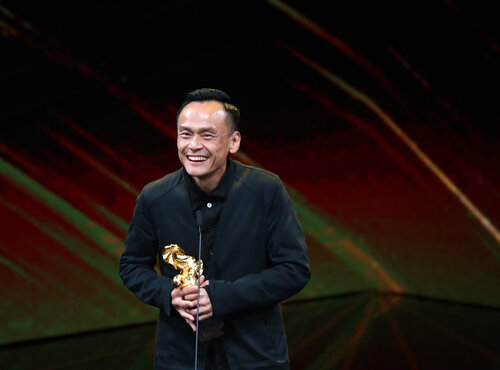 Taipei, Nov. 23 (CNA) Taiwanese filmmaker Chen Yi-wen (陳以文) won the best leading actor prize at the Golden Horse Awards in Taipei Saturday for his performance as the father of a troubled teen in the family drama "A Sun" (陽光普照).
"I want to thank the jury," Chen said in his acceptance speech at the ceremony at the Sun Yat-sen Memorial Hall in Taipei upon receiving the award from veteran Taiwanese actress Sylvia Chang (張艾嘉).
He thanked his director Chung Mong-hong (鍾孟宏) and his family, especially his parents and sister, for worrying about him when he worked late into the night for the movie.
The actor was praised by the jury for touching the audience through his portrayal of a parent whose heart is breaking due to the problems of his son.
Also in the running for best lead actor were Taiwanese Wu Chien-ho (巫建和) in "A Sun," Hong Kong-Taiwanese Tai Bo (太保) in "Suk Suk," Hong Konger Ben Yuen (袁富華) in "Suk Suk," and Chu Pak-hong (朱栢康), also from Hong Kong, in "My Prince Edward."
"A Sun" tells the story of the youngest son in a family of four, who has always been different. The father, played by Chen, is a driving instructor, the mother is a hairdresser and the elder son is a high school senior preparing for his medical school entrance exams.
Chen, 53, has been making and starring in films since the late 1980s and has won numerous awards, including the Grand Jury prize at the 2000 Golden Horse Awards for the comedy "The Cabbie," which he co-directed.
The star-studded Golden Horse Awards ceremony is one of the most prestigious film events in the Chinese-speaking world.
This year's Golden Horse Awards has been dealt a heavy blow after China announced a boycott of the awards in August in response to political fallout from last year's ceremony, when Taiwanese documentary director Fu Yu (傅榆) called in her acceptance speech for Taiwan to be treated as an "independent entity."
Taiwan's Golden Horse Executive Committee has remained tight-lipped and low-key about the boycott. Taiwan's Ministry of Culture, meanwhile, has expressed regret and has called for Chinese officials not to interfere with cultural exchanges over political factors.
(By William Yen)ENDITEM/pc/J