Taiwan shares end lower amid U.S.-China trade concerns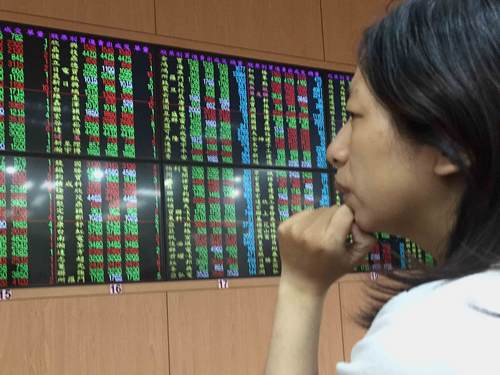 Taipei, Aug. 12 (CNA) Shares in Taiwan fell moderately Monday after moving in a small range throughout the session amid rising concerns over trade friction between the United States and China after U.S. President Donald Trump said Washington is not ready to reach an agreement with Beijing, dealers said.
The Chinese yuan's further depreciation against the U.S. dollar stoked fears that the weaker yuan will push down other regional currencies, which could prompt foreign investors to move their funds out of the region, the dealers said.
The weighted index on the Taiwan Stock Exchange (TWSE), or Taiex, ended down 22.13 points, or 0.21 percent, at 10,472.36, after moving between 10,440.77 and 10,514.05, on turnover of NT$123.56 billion (US$3.94 billion).
The market opened down 2.70 points and fell to the day's low in the early morning session as investors pocketed gains accrued a session earlier, when the Taiex closed up 1.04 percent in the wake of a technical rebound of U.S. tech stocks, the dealers said.
Ranged trade continued for the rest of the session as investors' nerves were shaken by Trump's comments on the trade issue with China Friday, with large-cap stocks such as contract chipmaker Taiwan Semiconductor Manufacturing Co., under pressure during most of the session, they said.
"The Washington-Beijing trade dispute continued to dominate Monday's session, in particular after Trump said his country is not ready to do something to resolve the issue," Concord Securities analyst Alex Huang said.
Speaking with reporters Friday, Trump had said that "China wants to do something, but I'm not doing anything yet", adding that the U.S. will not do business with Chinese telecom giant Huawei Technologies Co.
Trump's comments came after Beijing decided to stop buying U.S. crops and after the U.S. officially labeled China as a currency manipulator last week.
"Fears are rising that the deteriorating trade climate between the U.S. and China will harm the two countries' economic growth," Huang said. "With the two largest economies likely to falter, the global economy will suffer as well."
"I am also worried that a currency depreciation war in the region will lead to foreign fund flight as the yuan continues to slide," Huang said.
As a result, he said, investors here tended to turn away from market heavyweights in the bellwether electronics sector, in particular TSMC, the most heavily weighted stock in the local market.
TSMC fell 0.99 percent to close at NT$251.00, with downward pressure more apparent in the late trading session, after hitting an early high of 254.50, with 21.77 million shares changing hands. TSMC's losses contributed a 25-point decline to the Taiex.
In the flat panel industry, which has seen a supply glut, AU Optronics Corp. shed 2.74 percent to close at NT$7.45 and rival Innolux Corp. lost 2.37 percent to end at NT$6.17.
Bucking the downturn, iPhone assembler Hon Hai Precision Industry Co. rose 0.82 percent to close at NT$73.70, while Largan Precision Co., a supplier of smartphone camera lenses to Apple Inc., ended unchanged at NT$3,825.00, off a high of NT$3,865.00.
"A downbeat mood over the global trade situation also kept non-tech stocks in the doldrums throughout the session, with many foreign institutional investors staying on the sidelines," Huang said.
According to the TWSE, foreign institutional investors sold a net NT$3.78 billion-worth of shares on the main board Monday.
Among the falling big old economy stocks, Formosa Plastics Corp. lost 1.37 percent to close at NT$93.90 and Formosa Chemicals & Fibre Corp. fell 2.82 percent to end at NT$86.10 as the unfavorable global trade development triggered worries over crude oil price movements.
In the financial sector, which closed down 0.6 percent, Shanghai Commercial & Savings Bank fell 1.23 percent to close at NT$48.05 and Mega Financial Holding Co. shed 1.36 percent to end at NT$48.05, while Fubon Financial Holding Co. closed unchanged at NT$41.90.
"If the trade issue becomes even worse, it is possible that the main board will test the technical support level of around 10,379 -- the 240-day moving average -- or move lower," Huang said.
He said the over-the-counter market outperformed the main board Monday, with the index closing in positive territory as investors set their sights in smaller-cap stocks.
(By Frances Huang)Enditem/J